Eckhard Bick
VISL Project Leader
---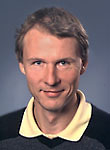 Email: eckhard.bick@gmail.com
Work Phone (SDU): (+45) 65 50 33 62
Home Phone: (+45) 86 28 35 24
Home Fax: (+45) 86 28 13 97




Eckhard Bick is Project Leader for the VISL project at Southern Denmark University, where he works as a researcher (forskningslektor) at the Institute for Language and Communication (ISK). His primary task is designing and programming grammatical tools for the internet, as well as building and maintaining CG and PSG grammars for the VISL languages, lexical resources and annotated corpora.

As a linguist, Eckhard Bick does research in the field of Natural Language Parsing and corpus linguistics, specializing in Portuguese and Danish. Other focus languages include English, Spanish, French and Esperanto, for all of which he has developed extensive Constraint Grammar systems. Current projects include:

AC/DC (CG-tagging of most Portuguese corpora, with Linguateca, Oslo-Portugal)
Floresta Sintá(c)tica (Portuguese treebank, with Linguateca, Oslo-Portugal)
Korpus90 and Korpus2000 (tagging of Danish corpora, with DSL, Copenhagen)
Arboretum (Danish treebank, based on Korpus90/2000)
Nomen Nescio (Automatic recognition of named entities, Nordic Language Technology Program)
Nordic Treebank Network (Nordic Language Technology Program)
L'Arboratoire (French treebank project, with ATILF & Loria-LED, Nancy)
Corpus Access Interfaces (ISK-funded web design project)

Some published articles are available on the internet.


Eckhard Bick was born in 1958 and studied in Bonn, London and Århus. He has degrees in Medicine (1984), English (1983) and Paedagogics (1985) from Bonn University, and the Danish equivalent of an MA (cand.mag.) in Nordic Languages and Portuguese (1993), from Århus University, with a thesis in lexicography. In November 2000, also at Århus University, he defended his dr.phil. thesis in Linguistics, The Parsing System Palavras - Automatic Grammatical Analysis of Portuguese in a Constraint Grammar Framework (published by Aarhus University Press).

Eckhard Bick has been working with Computational Linguistics since 1988, and joined the ISK in 1996.


As a physician, Eckhard Bick has a special interest in acupuncture and related techniques.
---
Back to Directory