Rasmus Nielsen (Mayan)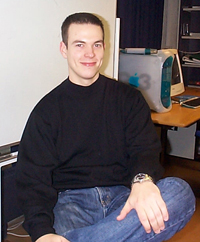 Student Assistant
---
Work Phone: (+ 45) 65 50 33 62
Rasmus Nielsen, who hails from Fredericia, Denmark, joined the Mayan project in August 1999. His contributions to the project include adding new lexical items to the Mayan (on-line) comparative dictionary and the reconstruction of Mayan Proto-forms.

He has also contributed to the VISL project in a number of ways. For example, he has added to the growing corpus of Danish texts by spending the summer of 2000 scanning in back issues of the archeological journal "Skalk" and editing the resulting files. He has also worked on VISL's bilingual electronic vocabulary of Danish and English.

Rasmus holds a B.A. in English from the University of Southern Denmark (USD), where he developed a strong interest in phonology and general linguistics. This led at first to a student teaching assistantship in American English Phonetics at USD and later to a scholarship at Ohio University where he is currently working on his M.A. in Applied Linguistics. At Ohio he also teaches an introductory course in Linguistics called "Nature of Language".

He has lived in the USA for three years: During the school year of 1995/1996, he was a high school exchange student in Jackson, Mississippi, and he studied at Ohio University during 2000/2001 and 2002/2003. In his sparetime, he enjoys playing and watching basketball. He has also become increasingly interested in Mayan hieroglyphic writing.

---
Back to Directory