Søren Harder (Danish)
Ph.D. Student
---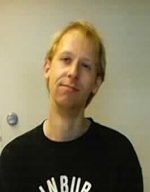 Work Phone: (+ 45) 65 50 22 45
Home Phone: (+ 45) 86 12 94 74
Cand.Mag. (1998) in Linguistics and Philosophy from University of Aarhus.
Studied at Centre for Cognitive Science in Edinburgh 1991-92

PhD-project
I started as a PhD-student at VISL August 2001. My PhD-project is to improve the Danish VISL-grammar so it can be used as the analysis component in a machine translation system together with a unification-based (English) generation module. For a 5-page presentation (July 2002) see here:PostScript or pdf for Acrobat Reader.

I have written a 70 pages first draft of some of the chapters of my thesis. They mostly cover an introduction to Machine Translation and the implementation of a Danish to English toy-system. You can have it in PostScript or pdf for Acrobat Reader.

During my PhD-stipend I worked with explicating the dependency links of the VISL-system (see here for an on-line demonstration). A very incomplete ('work-in-no-progress') description: PostScript and pdf for Acrobat Reader.

I have also been working on tagging with Case Grammar-tags.

As of Dec. 2004, my work on the PhD has stopped, and may or may not be resumed later. For a short description of the state of the project at this point in time see here: PostScript and pdf for Acrobat Reader.
Teaching
In the autumn 2002 I taught a course in Computational Linguistics. In the winter 2003 I taught a course in Danish for foreign employees at SDU. In spring 2005 I am teaching 'Sprogbeskrivelse' (Language Description) for teachers of Danish as Secondary Language and Danish for foreign employees at University of Aarhus.
Brief CV
Born June 26, 1969.

From 1992 - 1998, I taught courses in Modern History of Linguistics, Philosophy fo Language, Introduction to Cognitive Science, Cognitive Linguistics, Semantics, and Computational Linguistics at the Linguistics Department, University of Aarhus.

From 1998 - 2001, I taught Danish as a second language to immigrants in Aalborg

I wrote my master-thesis (1998) on adjectival semantics. It gives an introduction to Montague Semantics, and discusses topics relating to the semantics of adjectives, among other things vagueness. (Download it in .ps or .pdf for Acrobat Reader) In the first half of 2004 (on leave from SDU), I worked at Aminova Dialogue system at a project using the same tools that I had been working with at VISL to make 'linguistically intelligent' search in e.g. on-line encyclopedias.
Research Interests
Formal Semantics, Computational Linguistics, Cognitive and Formal Theories of Language, Philosophy of Language and Mind, and, of course, Machine Translation. Currently (spring 2005), after I left my PhD, I am doing kitchen-table research (when time allows it) in bilingual alignment, possibly leading to some sort of data-driven MT or some improvements on the VISL CG.
Spare Time
Preventing my girlfriend's Persian cat from sharpening his claws in my girlfriend's Persian rug and designer chairs and improving my computer skills, especially in Perl.


---
Back to Directory