Uwe Helm Petersen (German)
---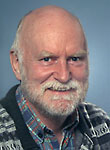 Work Phone: (+ 45) 65 57 32 19
Work Phone: (+ 45) 66 15 86 00 ext. 3219
Home Phone: (+ 45) 65 96 21 43
Uwe Helm Petersen is cand.mag. in German and Danish from Aarhus University and has been employed at Odense University since 1969 as an Associate Professor of German linguistics.
Areas of teaching: German Grammar and Linguistic Analysis, German Linguistics, and Danish Lingustic Analysis.
Main area of research: Functional Grammar; focusing especially on applying Hallidayian Systemic Functional Grammar to German and Danish, respectively.
---
Back to Directory